2023 Leaders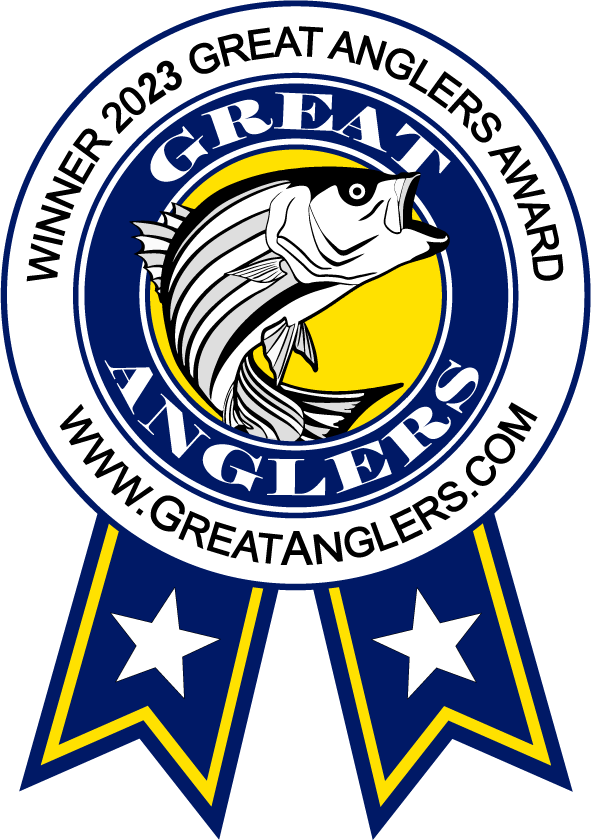 Congratulations to all the Winners!
These are the largest fish recorded so far for 2023.
If you have a fish that beats any of these and is not displayed, please edit your fish under the "My Fish" tab at the top" and make sure both the length and weight is entered correctly. At a minimum the length is required. Additionally the image and GPS position of your catch must be set to public to score and rank your fish.
Final Winners (of qualifying species) will receive free special edition Winners Stickers at the end of the year! Please make sure you enter your correct mailing address under "Settings".
Yearly Winners: 2023 2022 2021 2020 2019 2018 2017 here
2023 Leader

American Eel

04/17/23 8:56am
Size: 25" / 2lbs
Bait/Lure: Hot Dog
Method: Dock
Shop/Boat/Guide: Me

7
Like It

4%

Mark Hudson
Philadelphia PA
2023 Leader

American Red Snapper

06/16/23 4:44pm
Size: 28"
Bait/Lure: Squid
Method: Boat Fishing

15
Like It

3%

Makoman
Laytonsville MD
2023 Leader

Atlantic Bonito

06/01/23 10:26pm
Size: 30"
Method: Trolling

30
Like It

12%

Cooper
Williamsport PA
2023 Leader

Atlantic sharp nose shark

11/09/23 1:04pm
Size: 26"
Bait/Lure: Cut Bait
Method: Surf Fishing
Tackle Shop: Old Inlet Bait & Tackle

7
Like It

5%

Robert Waites
Oceanview DE
2023 Leader

Atlantic Sharpnose Shark

05/21/23 12:23am
Size: 44" / 10.4lbs
Bait/Lure: Mackerel
Method: Beach

13
Like It

3%

GRF
Ludowici GA
2023 Leader

Barracuda

03/02/23 5:43am
Size: 16" / 2lbs
Bait/Lure: Jig With Shad Tail
Method: Backyard fishing
Tackle Shop: Hook'em & Cook'em Outfitters (South Bethany)

10
Like It

2%

Chic
Ocean View DE
2023 Leader

Black Crappie

06/26/23 11:13pm
Size: 12" / 1lb
Bait/Lure: Hand-tied crappie jig
Method: Jigging

19
Like It

14%

Leo Pertman
Fulton MD
2023 Leader

Black Drum

02/26/23 7:45am
Size: 34"
Bait/Lure: Shrimp
Method: Jetty
Shop/Boat/Guide: Lee's Bait Shop

15
Like It

20%

Danny Noel
Houston TX
2023 Leader

Blackfin Tuna

10/06/23 9:40pm
Bait/Lure: Ballyhoo

13
Like It

6%

Julie Stevenson
Millsborro DE
2023 Leader

Blacktip Shark

05/04/23 9:14am

12
Like It

Thomas Sanders
Derwood MD
2023 Leader

Blue Claw Crab

08/01/23 6:30pm
Size: 8" / 1lb
Bait/Lure: Chicken
Method: Crab pots

12
Like It

12%

Cooper
Williamsport PA
2023 Leader

Bluefish

06/06/23 2:04am
Size: 37"
Bait/Lure: 3/8oz Chartreuse/white Spinner Bait W/double Willow Painted Blades
Tackle Shop: Old Inlet Bait & Tackle

18
Like It

5%

MAC
Potomac MD
2023 Leader

Bonnethead Shark

05/28/23 8:41pm
Size: 44.2" / 10.7lbs
Bait/Lure: Cut Mullet, Squid & Shrimp
Method: Pier Fishing

13
Like It

3%

GRF
Ludowici GA
2023 Leader

Bowfin

11/11/23 8:21am
Size: 25" / 5.44lbs
Bait/Lure: Spoon
Method: Kayak

6
Like It

3%

GRF
Ludowici GA
2023 Leader

Brook Trout

05/26/23 6:43pm
Size: 12"
Bait/Lure: Wax Worms
Method: Stream fishing
Shop/Boat/Guide: Wharton Store

7
Like It

11%

Shanan A. Poe
Dallastown PA
2023 Leader

Brown Trout

08/04/23 5:40pm
Size: 17" / 2lbs
Bait/Lure: Nightcrawlers
Method: Stream fishing
Shop/Boat/Guide: Wharton Store

9
Like It

11%

Shanan A. Poe
Dallastown PA
2023 Leader

Bull Shark

02/19/23 1:48am
Size: 70" / 101.4lbs
Bait/Lure: Stingray
Method: Beach

10
Like It

3%

GRF
Ludowici GA
2023 Leader

Carp

08/05/23 12:01pm
Size: 23" / 5lbs
Bait/Lure: Bread
Method: Chumming

13
Like It

Jackson Lilly
2023 Leader

Catfish

08/27/23 2:03pm
Size: 12" / 1.5lbs
Bait/Lure: Nightcrawlers
Method: Bank Fishing
Shop: Williamsville Bait & Tackle

0
Like It

1%

TMP
Bridgeville DE
2023 Leader

Chain Pickerel

10/07/23 9:14am
Size: 28"
Bait/Lure: Artificial Worm
Method: Kayak

15
Like It

Jenn Banos
Laurel DE
2023 Leader

Channel Catfish

08/20/23 10:30pm
Size: 26" / 9lbs
Bait/Lure: Bluegill
Method: Bank Fishing

7
Like It

18%

Devin Ensminger
2023 Leader

Channel catfish

09/06/23 4:06pm
Size: 26.5" / 11.2lbs
Bait/Lure: Chicken Breast
Method: Bank Fishing

14
Like It

18%

Devin Ensminger
2023 Leader

Cownose Ray

07/14/23 1:17pm
Bait/Lure: Bunker
Method: Surf Fishing
Tackle Shop: Old Inlet Bait & Tackle

16
Like It

3%

Jim Halter
Pedricktown NJ
2023 Leader

Crappie

11/15/23 3:52pm
Size: 10" / 0.5lbs
Bait/Lure: Crank Bait
Method: Bank Fishing
Tackle Shop: Hook 'em & Cook 'em (Indian River)

6
Like It

1%

TMP
Bridgeville DE
2023 Leader

Crevalle Jack

03/28/23 6:38am
Size: 20" / 5.5lbs
Bait/Lure: Popper
Method: Bank Fishing
Tackle Shop: Hook'em & Cook'em Outfitters (South Bethany)

13
Like It

2%

Chic
Ocean View DE
2023 Leader

Croaker

09/19/23 10:17am
Size: 13" / 1lb
Bait/Lure: Squid
Tackle Shop: Old Inlet Bait & Tackle

13
Like It

4%

Father Time
Gap PA
2023 Leader

Cuttlefish

01/01/23 5:05pm

4
Like It

2%

The Fish Whisperer
Laurel MD
2023 Leader

Dogfish Shark

11/04/23 11:28pm
Size: 54" / 28lbs
Bait/Lure: Bluefish
Method: Jigging
Tackle Shop: Old Inlet Bait & Tackle

7
Like It

7%

Cpt. Terry
Frankford DE
2023 Leader

Dusky Shark

08/25/23 6:44pm
Size: 30" / 7lbs
Bait/Lure: Full Mullet
Method: Boat Fishing
Shop/Boat/Guide: The Satanic Jellyfish

16
Like It

4%

Mark Hudson
Philadelphia PA
2023 Leader

Fallfish

05/27/23 8:43am
Size: 10" / 3lbs
Bait/Lure: Wax Worms
Method: Stream fishing
Shop/Boat/Guide: Wharton Store

6
Like It

11%

Shanan A. Poe
Dallastown PA
2023 Leader

File Fish

10/07/23 10:47am
Bait/Lure: Shrimp
Method: Boat Fishing

15
Like It

6%

Julie Stevenson
Millsborro DE
2023 Leader

Flathead Catfish

07/14/23 11:02am
Size: 44" / 30lbs
Bait/Lure: Bluegill
Method: Bank Fishing

12
Like It

Dustin Robinson
2023 Leader

Flounder

06/20/23 11:30pm
Size: 173" / 2lbs
Bait/Lure: Gulp
Method: Boat Fishing
Tackle Shop: Old Inlet Bait & Tackle

13
Like It

4%

watt
Wilmington DE
2023 Leader

Gizzard Shad

08/14/23 5:47pm
Size: 13" / 2.5lbs
Bait/Lure: Net
Method: Net
Tackle Shop: Hook'em & Cook'em Outfitters (South Bethany)

10
Like It

13%

Luke
Bethany Beach DE
2023 Leader

Golden Trout

03/25/23 9:08am
Size: 17"
Bait/Lure: Spinner

13
Like It

4%

watt
Wilmington DE
2023 Leader

Great Northern Tilefish

06/25/23 5:44pm

12
Like It

Henry Busby
2023 Leader

Grouper

03/29/23 6:15am
Size: 16" / 2lbs
Bait/Lure: SP Minnow
Method: Bank Fishing
Tackle Shop: Hook'em & Cook'em Outfitters (South Bethany)

17
Like It

2%

Chic
Ocean View DE
2023 Leader

Hammerhead Shark

08/16/23 1:38pm
Size: 33" / 8lbs
Bait/Lure: Minnow
Method: Boat Fishing
Shop/Boat/Guide: The Satanic Jellyfish

12
Like It

4%

Mark Hudson
Philadelphia PA
2023 Leader

Kingfish

10/05/23 4:56pm
Size: 13" / 2lbs
Bait/Lure: Fishbites
Method: Surf Fishing
Tackle Shop: Jim's Bait & Tackle

12
Like It

6%

Chris Connolly
Millville DE
2023 Leader

Largemouth Bass

08/19/23 2:22pm
Size: 24.5" / 10.5lbs
Bait/Lure: Bluegill
Method: Bank Fishing

13
Like It

14%

Leo Pertman
Fulton MD
2023 Leader

Longnose Gar

04/01/23 8:05am
Size: 29" / 5lbs
Bait/Lure: Nightcrawlers
Method: Pier Fishing

13
Like It

7%

Vincent
2023 Leader

Mahi-mahi

09/23/23 12:15pm
Size: 42" / 15lbs
Bait/Lure: Ballyhoo
Method: Troll
Tackle Shop: Old Inlet Bait & Tackle

10
Like It

7%

Cpt. Terry
Frankford DE
2023 Leader

Mangrove Snapper

05/31/23 7:57pm
Size: 25" / 7lbs
Bait/Lure: Cut Bait
Method: Bottom Fishing

29
Like It

12%

Cooper
Williamsport PA
2023 Leader

Muskie

11/25/23 12:49pm
Size: 41"
Bait/Lure: Jitterbug
Method: Boat Fishing
Shop/Boat/Guide: Blue Ridge Guide Sam Scott

15
Like It

3%

Makoman
Laytonsville MD
2023 Leader

Needlefish

08/12/23 9:15am
Bait/Lure: Fishbites
Method: Bottom Fishing

8
Like It

JTom83
2023 Leader

Northern Pike

09/30/23 12:30am
Bait/Lure: Spinnerbait
Method: Bank Fishing

13
Like It

3%

Makoman
Laytonsville MD
2023 Leader

Oscar

02/21/23 11:35pm
Size: 12" / 1lb
Bait/Lure: Spinner
Method: Casting

13
Like It

Joseph Little
Preston MD
2023 Leader

Oyster toadfish

10/08/23 1:00pm
Size: 13"
Bait/Lure: Fleas
Method: Casting

14
Like It

Jenn Banos
Laurel DE
2023 Leader

Oyster Toadfish

07/06/23 12:52pm
Size: 17" / 5lbs
Bait/Lure: Artificial Worm
Method: Boat Fishing
Tackle Shop: Fenwick Bait & Tackle

16
Like It

Mark Kohr
Finksburg MD
2023 Leader

Pompano

11/11/23 12:28pm
Size: 17" / 3.5lbs
Bait/Lure: Shrimp
Method: Beach
Shop/Boat/Guide: None

10
Like It

Bob Carlin
Bethany Beach DE
2023 Leader

Pumpkinseed

04/25/23 6:36pm
Size: 9" / 12lbs
Bait/Lure: Gulp
Method: Casting
Tackle Shop: Old Inlet Bait & Tackle

9
Like It

1%

Emmett Kelly
Ocean View DE
2023 Leader

Rainbow Trout

04/15/23 9:09am
Size: 25.9" / 7.11lbs
Bait/Lure: Spinner

16
Like It

4%

watt
Wilmington DE
2023 Leader

Red Drum

04/04/23 6:59pm
Size: 40"
Bait/Lure: Mullet Chunk
Method: Surf Fishing
Tackle Shop: Old Inlet Bait & Tackle

14
Like It

16%

JRGSTRIPER
Milford DE
2023 Leader

Ribbon Fish

07/31/23 2:11pm
Size: 36" / 4lbs
Bait/Lure: Hopkins Lure
Method: Surf fish
Tackle Shop: Old Inlet Bait & Tackle

14
Like It

Melvin Jones
Ocean View DE
2023 Leader

Ribbonfish of some sort? Found dead on my jetski

09/08/23 4:17pm
Size: 9" / 0.5lbs

6
Like It

Mark Kohr
Finksburg MD
2023 Leader

Roughtail Stingray

05/22/23 1:29pm
Bait/Lure: Bunker
Method: Surf Fishing
Tackle Shop: Old Inlet Bait & Tackle

22
Like It

302 fishin
2023 Leader

Sand Tiger

08/03/23 7:00am
Size: 132" / 300lbs
Bait/Lure: Tuna
Method: Boat Fishing

18
Like It

12%

Cooper
Williamsport PA
2023 Leader

Sandbar Shark

04/15/23 6:10pm
Size: 80" / 147lbs
Bait/Lure: Bonita
Method: Beach

12
Like It

3%

GRF
Ludowici GA
2023 Leader

Sea Bass

10/30/23 11:35pm
Size: 22" / 4.3lbs
Bait/Lure: Jig
Method: Jigging
Tackle Shop: Old Inlet Bait & Tackle

10
Like It

7%

Cpt. Terry
Frankford DE
2023 Leader

Shad

04/07/23 8:08pm
Size: 17" / 2lbs
Bait/Lure: Shad Dart
Method: Bridge fishing

11
Like It

2%

The Fish Whisperer
Laurel MD
2023 Leader

Shark

11/07/23 1:45pm
Size: 27"
Bait/Lure: Cut Bait
Method: Surf Fishing
Tackle Shop: Old Inlet Bait & Tackle

8
Like It

5%

Robert Waites
Oceanview DE
2023 Leader

Sheepshead

10/04/23 8:40am
Size: 18.5" / 5.5lbs
Bait/Lure: Sand Flea
Method: Jetty fishing
Tackle Shop: Old Inlet Bait & Tackle

21
Like It

3%

Jim Halter
Pedricktown NJ
2023 Leader

Shrimp

02/04/23 4:59pm
Size: 6.5"
Bait/Lure: Cast Net
Method: Pier Fishing

5
Like It

3%

GRF
Ludowici GA
2023 Leader

Smallmouth Bass

06/09/23 6:34am
Size: 4.2lbs

17
Like It

6%

Pam
Westfield MA
2023 Leader

Snakehead

10/15/23 8:40pm
Size: 33" / 14lbs
Bait/Lure: Artificial Worm
Method: Bank Fishing

9
Like It

Mark Yengle
2023 Leader

Snook

04/29/23 8:10am
Size: 28"
Bait/Lure: Mullet
Method: Casting

15
Like It

Dan F
Leesburg VA
2023 Leader

Spanish Mackerel

07/26/23 10:38am
Size: 12" / 1lb
Bait/Lure: Sabiki Rig
Method: Bank Fishing
Tackle Shop: Hook 'em & Cook 'em (Indian River)

12
Like It

Killian Rynearson
johnson city NY
2023 Leader

Speckled Trout

05/31/23 7:11am
Size: 23" / 3.6lbs
Bait/Lure: Jig With Shad Tail
Method: Bank Fishing
Tackle Shop: Hook'em & Cook'em Outfitters (South Bethany)

22
Like It

2%

Chic
Ocean View DE
2023 Leader

Spiny Dogfish

04/23/23 8:56am
Size: 36"
Bait/Lure: Mullet Rig
Method: Surf Fishing
Shop/Boat/Guide: Ice House

9
Like It

9%

Jeff Kirby
Rehoboth Beach DE
2023 Leader

Spotted Seatrout

08/27/23 10:30am
Size: 7"
Bait/Lure: Sand Flea
Method: Bottom Fishing

5
Like It

JTom83
2023 Leader

Steelhead

04/11/23 1:49pm
Size: 25"

13
Like It

3%

Jordan Marcus
Owings Mills MD
2023 Leader

Stingray

05/14/23 6:24am
Size: 12"
Bait/Lure: Bunker
Method: Surf fish
Tackle Shop: Old Inlet Bait & Tackle

16
Like It

4%

stingray Ray
Lincoln DE
2023 Leader

Striped Bass

02/14/23 10:07am
Size: 50"
Bait/Lure: Buck tail jig
Method: Jigging

23
Like It

shawn benton
2023 Leader

Sucker

05/20/23 12:04pm
Size: 16" / 1.2lbs
Bait/Lure: Nightcrawlers
Method: Stream fishing
Shop/Boat/Guide: Wharton Store

8
Like It

11%

Shanan A. Poe
Dallastown PA
2023 Leader

Tarpon

06/06/23 1:34am
Size: 66"
Bait/Lure: Mullet
Method: Boat Fishing
Tackle Shop: Old Inlet Bait & Tackle

20
Like It

5%

MAC
Potomac MD
2023 Leader

Tautog

05/12/23 5:06pm
Size: 25" / 9lbs
Bait/Lure: Crab
Method: Boat Fishing

21
Like It

2%

Dansfishingagain
Bethany Beach DE
2023 Leader

Triggerfish

06/16/23 5:01pm
Size: 9lbs
Bait/Lure: Squid
Method: Boat Fishing

19
Like It

3%

Makoman
Laytonsville MD
2023 Leader

Triggerfish, Black Sea Bass, & Spadefish

09/10/23 6:20pm
Size: 21.5" / 4.1lbs
Bait/Lure: Sand Fleas
Method: Boat Fishing
Tackle Shop: Old Inlet Bait & Tackle

8
Like It

7%

Cpt. Terry
Frankford DE
2023 Leader

Tuna

06/03/23 7:31am

18
Like It

Scott Foltz
2023 Leader

Walleye

01/25/23 5:06pm
Size: 29"
Bait/Lure: 3/8oz Chartreuse/white Spinner Bait W/double Willow Painted Blades
Method: Shore Fishing
Tackle Shop: Old Inlet Bait & Tackle

14
Like It

5%

MAC
Potomac MD
2023 Leader

Weakfish

05/21/23 4:40pm
Size: 24" / 4.5lbs
Bait/Lure: Spec rig
Tackle Shop: Hook 'em & Cook 'em (Indian River)

23
Like It

8%

Hook 'em & Cook 'em
Rehoboth Beach DE
2023 Leader

White Bullhead Catfish

10/21/23 4:06pm
Size: 21.4" / 3.1lbs
Bait/Lure: Chicken Liver
Method: Boat Fishing

5
Like It

3%

GRF
Ludowici GA
2023 Leader

White Marlin

08/17/23 7:13am
Method: Charter

12
Like It

Rose
2023 Leader

White Perch

10/10/23 5:52pm
Size: 12.5" / 1.1lbs
Bait/Lure: Jig Tubes
Method: Boat Fishing
Tackle Shop: Old Inlet Bait & Tackle

9
Like It

7%

Cpt. Terry
Frankford DE
2023 Leader

Yellow Perch

01/25/23 10:39am
Size: 10"
Bait/Lure: Crappie Magnet
Method: Bank Fishing
Shop/Boat/Guide: Me

8
Like It

4%

Mark Hudson
Philadelphia PA
2023 Leader

Yellowfin Tuna

07/26/23 7:45am
Size: 59lbs
Bait/Lure: Trolling Squid
Tackle Shop: Hook 'em & Cook 'em (Indian River)

21
Like It

Brendon Low