2022 Leaders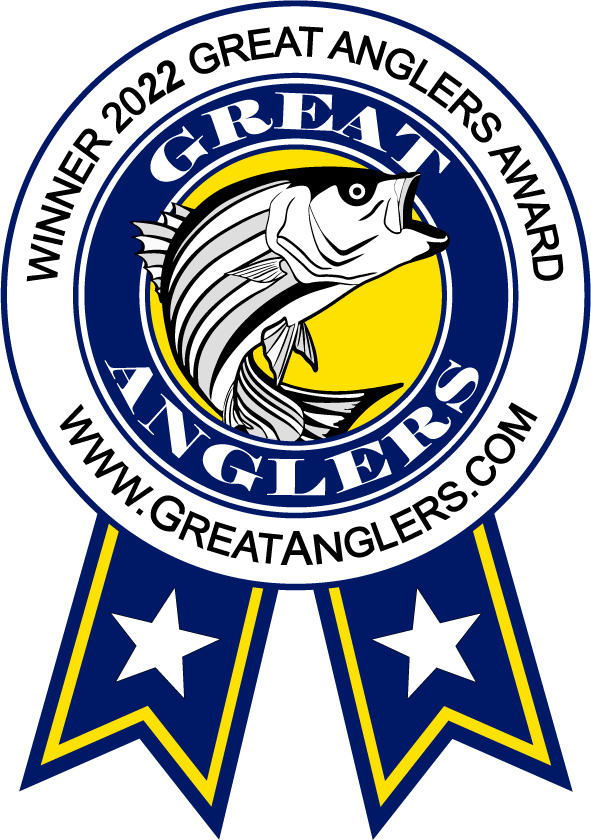 Congratulations to all the Winners!
These are the largest fish recorded so far for 2022.
If you have a fish that beats any of these and is not displayed, please edit your fish under the "My Fish" tab at the top" and make sure both the length and weight is entered correctly. At a minimum the length is required. Additionally the image and GPS position of your catch must be set to public to score and rank your fish.
Final Winners (of game fish only) will receive free Winners Stickers with the special edition Winners Logo at the end of the year! Please make sure you enter your correct mailing address under "Settings".
Yearly Winners: 2022 2021 2020 2019 2018 2017
2022 Leader

Black Crappie

05/02/22 9:22am
Size: 9"
Bait/Lure: Mealworm
Method: Bank Fishing
Shop/Boat/Guide: The Satanic Jellyfish

11
Like It

5%

Mark Hudson
Philadelphia PA
2022 Leader

Black Drum

04/19/22 7:07am
Size: 25"
Bait/Lure: Sand Fleas
Method: Beach

12
Like It

William Joseph Poff II
2022 Leader

Blue Catfish

06/07/22 11:20pm
Size: 25" / 20lbs
Bait/Lure: Shrimp
Method: Bottom Fishing

9
Like It

Chris Davis
Mansfield OH
2022 Leader

Bluefish

05/13/22 5:24am
Size: 31" / 11.8lbs
Bait/Lure: Spoon
Method: Beach
Tackle Shop: Hook'em & Cook'em Outfitters (South Bethany)

14
Like It

1%

Chic
Ocean View DE
2022 Leader

Bluegill

04/14/22 6:07pm
Size: 9" / 0.75lbs
Bait/Lure: Nightcrawlers
Method: Casting
Tackle Shop: Old Inlet Bait & Tackle

6
Like It

1%

Emmett Kelly
Ocean View DE
2022 Leader

Brook Trout

04/05/22 9:56am
Size: 15"
Bait/Lure: Fly
Method: Fly fishing

8
Like It

15%

Colin Hugney
2022 Leader

Brown Trout

05/01/22 6:55am
Size: 16"
Bait/Lure: Minnow
Method: Wet wading
Tackle Shop: Old Inlet Bait & Tackle

12
Like It

5%

watt
Wilmington DE
2022 Leader

Bullnose Ray

06/19/22 6:28pm
Tackle Shop: Old Inlet Bait & Tackle

7
Like It

302 statefishin
2022 Leader

Carp

05/24/22 8:26am
Size: 4lbs
Bait/Lure: Joe
Method: Bank Fishing
Shop/Boat/Guide: The Satanic Jellyfish

8
Like It

5%

Mark Hudson
Philadelphia PA
2022 Leader

Catfish

06/07/22 11:21pm
Size: 28" / 20lbs
Bait/Lure: Bluegill
Method: Bank Fishing

9
Like It

Austin Robinson
Mansfield OH
2022 Leader

Chain Pickerel

02/24/22 6:34am
Size: 24"
Bait/Lure: Gulp
Method: Bank Fishing

16
Like It

15%

Frank
2022 Leader

Channel Catfish

06/07/22 11:16pm
Size: 26" / 10lbs
Bait/Lure: Shad
Method: Bank Fishing

6
Like It

Austin Robinson
Mansfield OH
2022 Leader

Clearnose Skate

06/26/22 6:05pm
Size: 15"
Bait/Lure: Shrimp
Method: Surf Fishing

5
Like It

2%

The Fish Whisperer
Laurel MD
2022 Leader

Conger Eel

06/07/22 8:17pm
Bait/Lure: Squid
Method: Dock
Shop/Boat/Guide: All Tackle West Ocean city md

17
Like It

Amanda Ross
Wernersville PA
2022 Leader

Cownose Ray

05/31/22 8:19pm
Tackle Shop: Old Inlet Bait & Tackle

13
Like It

302 statefishin
2022 Leader

Crappie

05/24/22 8:58am
Size: 8"
Bait/Lure: Joe
Method: Bank Fishing
Shop/Boat/Guide: The Satanic Jellyfish

9
Like It

5%

Mark Hudson
Philadelphia PA
2022 Leader

Crevalle Jack

06/17/22 7:03am

10
Like It

10%

Elsa LaVecchia
Frankford DE
2022 Leader

Croaker

05/28/22 6:30am
Size: 10"
Bait/Lure: Bloodworm
Method: Surf Fishing
Tackle Shop: Old Inlet Bait & Tackle

6
Like It

6%

Jim Halter
Pedricktown NJ
2022 Leader

Cubera Snapper

03/08/22 7:49pm
Size: 16"
Bait/Lure: Shrimp
Method: Backyard fishing
Tackle Shop: Hook'em & Cook'em Outfitters (South Bethany)

16
Like It

4%

Hook'em & Cook'em Outfitters
South Bethany DE
2022 Leader

Dogfish Shark

05/17/22 8:28am
Size: 51"
Bait/Lure: Bunker
Method: Surf Fishing
Tackle Shop: Fenwick Bait & Tackle

18
Like It

2%

Greg
South Bethany DE
2022 Leader

Flounder

06/01/22 2:23pm
Size: 22"
Bait/Lure: Squid

16
Like It

2%

Dansfishingagain
Bethany Beach DE
2022 Leader

Freshwater Drum

05/27/22 10:10am
Size: 29" / 25lbs
Bait/Lure: Shad
Method: Bank Fishing

9
Like It

Ronald Bays
2022 Leader

Freshwater Drum

06/05/22 12:12pm
Size: 21" / 14lbs
Bait/Lure: Shad

8
Like It

Chris Davis
Mansfield OH
2022 Leader

Golden Trout

04/09/22 12:21pm
Size: 19"

12
Like It

3%

Makoman
Laytonsville MD
2022 Leader

King Mackerel

05/17/22 10:57pm
Size: 50" / 20lbs
Bait/Lure: Bonita
Method: Trolling
Shop/Boat/Guide: None

23
Like It

Breanna Rohrer
2022 Leader

Kingfish

06/12/22 5:18am
Size: 15"
Bait/Lure: Bunker
Method: Surf Fishing
Tackle Shop: Old Inlet Bait & Tackle

14
Like It

10%

Robbie Spry
2022 Leader

Largemouth Bass

06/07/22 8:42pm
Size: 7lbs
Bait/Lure: Megabass dark sleeper
Method: Bank Fishing
Tackle Shop: Hook'em & Cook'em Outfitters (South Bethany)

15
Like It

12%

Wyatt Paden
Ocean View DE
2022 Leader

Northern Pike

04/06/22 12:11am

14
Like It

3%

Makoman
Laytonsville MD
2022 Leader

Peacock Bass

02/04/22 2:32pm
Tackle Shop: Billy Bones Bait N Tackle

22
Like It

20%

Bruce Hrobak
2022 Leader

Permit

06/17/22 6:58am
Shop/Boat/Guide: Boat

12
Like It

10%

Elsa LaVecchia
Frankford DE
2022 Leader

Pufferfish

05/29/22 9:30am
Size: 10"
Method: Surf Fishing
Tackle Shop: Old Inlet Bait & Tackle

8
Like It

Will melnykovich
2022 Leader

Pumpkinseed

04/12/22 7:19pm
Size: 9"
Bait/Lure: Nightcrawlers
Method: Casting
Tackle Shop: Old Inlet Bait & Tackle

7
Like It

1%

Emmett Kelly
Ocean View DE
2022 Leader

Rainbow Trout

05/26/22 12:46pm
Size: 24"
Bait/Lure: Artificial Worm
Tackle Shop: Old Inlet Bait & Tackle

17
Like It

5%

watt
Wilmington DE
2022 Leader

Red Breast Sunfish

05/24/22 4:43pm
Size: 9"
Bait/Lure: Joe
Method: Bank Fishing
Shop/Boat/Guide: The Satanic Jellyfish

9
Like It

5%

Mark Hudson
Philadelphia PA
2022 Leader

Red Drum

05/27/22 8:45am
Size: 28"
Bait/Lure: Cut Bait
Method: Surf Fishing

18
Like It

Sheila Smith
Lebanon PA
2022 Leader

Ribbon Fish

06/24/22 11:22pm
Size: 37" / 1.25lbs
Bait/Lure: Shinners
Method: Drifting
Tackle Shop: Jim's Bait & Tackle

5
Like It

10%

The McGlauflins
Fenwick Island DE
2022 Leader

Rock Bass

05/20/22 2:18pm
Size: 0.03" / 0.02lbs
Bait/Lure: Minnow
Method: Wet wading
Tackle Shop: Old Inlet Bait & Tackle

6
Like It

5%

watt
Wilmington DE
2022 Leader

Roughtail Stingray

06/13/22 1:13pm
Tackle Shop: Old Inlet Bait & Tackle

8
Like It

302 statefishin
2022 Leader

Sand Tiger

06/20/22 2:54pm

7
Like It

Kicky
2022 Leader

Sandbar Shark

06/25/22 5:27pm
Bait/Lure: Bunker

10
Like It

Josh
2022 Leader

Sea Bass

05/14/22 7:33am
Size: 18.5"
Bait/Lure: Squid
Method: Boat Fishing

11
Like It

15%

Frank
2022 Leader

Shad

04/24/22 12:26pm
Size: 18" / 3lbs
Shop/Boat/Guide: Self

5
Like It

2%

The Fish Whisperer
Laurel MD
2022 Leader

Smallmouth Bass

04/10/22 7:52am
Size: 12"
Method: Wet wading
Tackle Shop: Old Inlet Bait & Tackle

10
Like It

5%

watt
Wilmington DE
2022 Leader

Snakehead

05/22/22 4:48pm
Size: 28" / 7.2lbs
Bait/Lure: Nightcrawlers
Method: Bank Fishing
Shop/Boat/Guide: The Satanic Jellyfish

15
Like It

5%

Mark Hudson
Philadelphia PA
2022 Leader

Spiny Dogfish

06/26/22 6:52am
Size: 10"
Bait/Lure: Sand Flea
Method: Beach
Tackle Shop: Old Inlet Bait & Tackle

5
Like It

Ray Harper
2022 Leader

Spot aka "bait"

06/25/22 6:59am
Size: 4" / 0.2lbs
Bait/Lure: Sand Fleas
Method: Surf Fishing
Tackle Shop: Hook'em & Cook'em Outfitters (South Bethany)

7
Like It

2%

Greg
South Bethany DE
2022 Leader

Stingray

06/02/22 9:03am
Size: 36" / 40lbs
Bait/Lure: Crab
Tackle Shop: Old Inlet Bait & Tackle

10
Like It

matthew crouchelli
2022 Leader

Striped Bass

04/25/22 2:14pm
Size: 40"
Tackle Shop: Captain Steves Bait & Tackle

15
Like It

4%

Captain Steve's Bait & Tackle
Chincoteague Island VA
2022 Leader

Tautog

03/11/22 10:44am
Size: 27.5" / 15lbs
Bait/Lure: Crab
Method: Bottom Fishing

16
Like It

2%

Dansfishingagain
Bethany Beach DE
2022 Leader

Walleye

05/12/22 11:32pm
Size: 10"
Bait/Lure: Joe's Fly
Method: Bridge
Shop/Boat/Guide: The Satanic Jellyfish

9
Like It

5%

Mark Hudson
Philadelphia PA
2022 Leader

Weakfish

05/22/22 6:34am
Size: 10"
Bait/Lure: Bloodworm
Method: Surf Fishing
Tackle Shop: Old Inlet Bait & Tackle

10
Like It

6%

Jim Halter
Pedricktown NJ
2022 Leader

White Perch

05/16/22 8:04am
Size: 11"
Bait/Lure: Sweet Pea
Method: Bank Fishing
Shop/Boat/Guide: The Satanic Jellyfish

7
Like It

5%

Mark Hudson
Philadelphia PA
2022 Leader

Yellow Bullhead Catfish

06/25/22 8:05am
Size: 1lb
Bait/Lure: Nightcrawlers
Method: Bank Fishing
Shop/Boat/Guide: The Satanic Jellyfish

7
Like It

5%

Mark Hudson
Philadelphia PA
2022 Leader

Yellow Perch

05/16/22 7:39am
Size: 11"
Bait/Lure: Nightcrawlers
Method: Bank Fishing
Shop/Boat/Guide: The Satanic Jellyfish

8
Like It

5%

Mark Hudson
Philadelphia PA
2022 Leader

Yellowfin Tuna

02/09/22 10:30am
Size: 40"
Bait/Lure: Sardine
Method: Hook and line

17
Like It

12%

Shawn
Bishopville MD