2017 Winners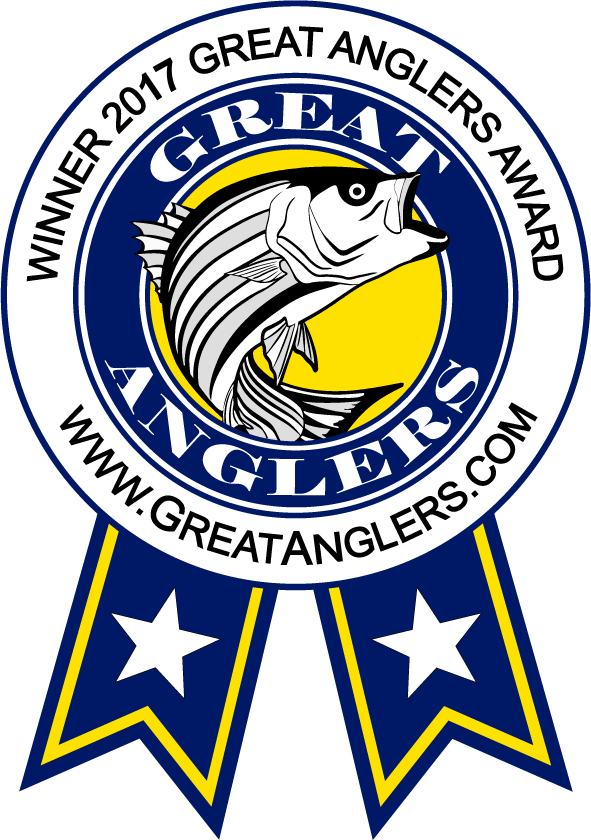 Congratulations to all the GreatAngler Award Winners!
These are the largest fish recorded for 2017. If you have a fish that beats any of these and is not displayed, please edit your fish under the "My Fish" tab at the top" and make sure both the length and weight is entered correctly. At a minimum the length is required. Additionally the image and GPS position of your catch must be set to public to score and rank your fish.
Thanks so much for being part of GreatAnglers! We look forward to seeing you again next year!
Yearly Winners: 2019 2018 2017
2017 Leader

Barracuda

06/18/17 12:06am
Size: 40" / 10lbs
Bait/Lure: Bally hoo
Method: Trolling

22
Like It

Dave
Key West FL
2017 Leader

Black Drum

05/30/17 12:00am
Size: 53" / 63lbs
Bait/Lure: Clam
Tackle Shop: Old Inlet Bait & Tackle

3
Like It

1%

Old Inlet
Rehobeth Beach DE
2017 Leader

Black Triggerfish

07/21/17 4:44pm
Size: 15.5"
Bait/Lure: Squid

3
Like It

Susan Krepshaw
Wilmington DE
2017 Leader

Blacktip Shark

08/26/17 11:48am
Size: 49"
Bait/Lure: Mullet
Method: Surf Fishing

15
Like It

20%

Bruce Stearn
Monroe Twp NJ
2017 Leader

Blue Claw Crab

09/01/17 1:58pm
Size: 9" / 1lb
Bait/Lure: Mullet
Method: Shore Fishing

19
Like It

2%

Jeff
New Castle DE
2017 Leader

Bluefin Tuna

02/19/17 1:21pm
Size: 90" / 370lbs
Method: Trolling

6
Like It

John Coleman
2017 Leader

Bluefish

05/02/17 7:49pm
Size: 40" / 11lbs
Bait/Lure: Plugs
Method: Shore Fishing

7
Like It

13%

Clayton Anders
2017 Leader

Bull Shark

07/07/17 2:35pm
Size: 36" / 20lbs
Bait/Lure: Cut Bait
Method: Surf Fishing

6
Like It

Martin
Allentown PA
2017 Leader

Carp

02/19/17 8:15am
Size: 48" / 30lbs
Bait/Lure: Arrow
Method: Bow Fishing

4
Like It

13%

Clayton Anders
2017 Leader

Chain Pickerel

10/07/17 1:11pm
Size: 20" / 2lbs
Bait/Lure: Artificial Worm
Method: Boat Fishing

14
Like It

9%

Jordan Marcus
Owings Mills MD
2017 Leader

Channel Catfish

05/30/17 8:01pm
Size: 18" / 2lbs
Bait/Lure: Plugs
Method: Shore Fishing

3
Like It

3%

Don
Bethany Beach DE
2017 Leader

Clear-Nose Skate

10/31/17 4:19pm
Size: 18"
Bait/Lure: Bunker
Method: Surf Fishing

16
Like It

Ray Carl
2017 Leader

Cobia

06/13/17 5:40pm
Size: 49" / 50lbs
Bait/Lure: Bunker
Method: Boat Fishing

6
Like It

Chris Huk
Milford DE
2017 Leader

Conger Eel

08/23/17 12:22pm
Size: 36"
Bait/Lure: Squid
Method: Boat Fishing

4
Like It

4%

Hook'em&Cook'em Outfitters
South Bethany DE
2017 Leader

Crappie

12/18/17 2:00pm
Size: 14.3" / 1.3lbs
Bait/Lure: Jig tubes
Method: Bridge

15
Like It

9%

Jordan Marcus
Owings Mills MD
2017 Leader

Cusk

12/03/17 5:44pm
Size: 38" / 20.3lbs
Bait/Lure: Squid
Method: Boat Fishing
Tackle Shop: Hook'em & Cook'em Outfitters

33
Like It

4%

Hook'em&Cook'em Outfitters
South Bethany DE
2017 Leader

Dusky Shark

08/09/17 8:50pm
Size: 60" / 80lbs
Bait/Lure: Bunker
Method: Done Drop

6
Like It

3%

Don
Bethany Beach DE
2017 Leader

Flathead Catfish

09/23/17 10:33pm
Size: 25lbs
Bait/Lure: Chicken
Method: Pond

7
Like It

10%

Colin
North Wales PA
2017 Leader

Flounder

11/25/17 11:30am
Size: 29" / 10.14lbs
Bait/Lure: Squid
Method: Boat Fishing

38
Like It

Ben Semiatin
Ocean City MD
2017 Leader

Golden Tile

08/25/17 3:14pm
Size: 47" / 46.5lbs
Bait/Lure: Other
Method: Jigs

10
Like It

Tom Schanno
Halethorpe MD
2017 Leader

Kingclip

05/27/17 10:10am
Size: 22" / 4lbs
Method: Boat Fishing

5
Like It

John Evans
Selbyville DE
2017 Leader

Kingfish

07/28/17 11:07am
Size: 14"
Bait/Lure: Fish Bites
Method: Surf Fishing

6
Like It

Jerry
New Castle DE
2017 Leader

Largemouth Bass

07/30/17 1:18am
Size: 6.5lbs
Bait/Lure: Plugs
Method: Pond

6
Like It

12%

Jake Allnutt
Silver Spring MD
2017 Leader

Lemon shark

11/09/17 10:44am
Size: 72" / 40lbs
Bait/Lure: Bally hoo
Method: Trolling

21
Like It

Dave
Key West FL
2017 Leader

Mahi-mahi

07/05/17 11:34am
Size: 40"
Method: Boat Fishing

4
Like It

Jessica
2017 Leader

Mako Shark

06/27/17 7:58am
Size: 396lbs
Bait/Lure: Mackerel
Method: Boat Fishing

5
Like It

4%

Hook'em&Cook'em Outfitters
South Bethany DE
2017 Leader

Muskie

06/27/17 9:34am
Size: 41"
Bait/Lure: 3/8oz chartreuse/white spinner bait w/double willow painted blades
Method: Boat Fishing

30
Like It

20%

Bruce Stearn
Monroe Twp NJ
2017 Leader

Needlefish

07/15/17 8:47am
Size: 37"
Bait/Lure: Gotcha Plug

4
Like It

16%

John Romack
Fenwick island DE
2017 Leader

Northern Pike

08/25/17 2:14pm
Size: 28" / 5lbs
Bait/Lure: Jig head w/ a crawfish trailer
Method: Jigs

5
Like It

Kevin Crowell
Highland MD
2017 Leader

Rainbow Trout

05/26/17 10:40am
Size: 33" / 3.5lbs
Bait/Lure: Fly
Method: Boat Fishing

16
Like It

5%

Mike Lord
Frankford DE
2017 Leader

Red Drum

05/16/17 10:22am
Size: 58" / 83lbs
Bait/Lure: Mullet
Method: Boat Fishing

12
Like It

2%

Jeff
New Castle DE
2017 Leader

Sailfish

12/13/17 10:18am
Size: 60" / 75lbs
Bait/Lure: Bally hoo
Method: Trolling

24
Like It

Dave
Key West FL
2017 Leader

Sand Tiger Shark

06/29/17 2:15pm
Size: 96"
Bait/Lure: Tautog

4
Like It

16%

John Romack
Fenwick island DE
2017 Leader

Sandbar Shark

06/20/17 8:48pm
Size: 65" / 100lbs
Bait/Lure: Kingfish
Method: Shore Fishing

5
Like It

3%

Don
Bethany Beach DE
2017 Leader

Seabass 10/Dolphin/Triggerfish

08/04/17 8:16pm
Size: 15" / 3lbs
Bait/Lure: Cut Bait
Method: Drifting

4
Like It

Hunter Culver
Milford DE
2017 Leader

Shark

12/03/17 8:48am
Size: 30"
Bait/Lure: Mullet
Method: Surf Fishing

14
Like It

Michael Bunting
2017 Leader

Sheepshead

09/13/17 1:23am
Size: 26" / 14.8lbs
Bait/Lure: Hotdog
Method: Boat Fishing

8
Like It

12%

Jake Allnutt
Silver Spring MD
2017 Leader

Southern Ray

06/25/17 1:42am
Size: 65lbs
Bait/Lure: Arrow
Method: Bow Fishing

4
Like It

13%

Clayton Anders
2017 Leader

Spadefish

08/31/17 11:43pm
Size: 4.3lbs
Bait/Lure: Arrow
Method: Bow Fishing

5
Like It

12%

Jake Allnutt
Silver Spring MD
2017 Leader

Speckled Trout

09/04/17 2:32am
Size: 21" / 1lb
Bait/Lure: paul brown lures
Method: Top Water Fishing

6
Like It

Ernest Lara Jr.
Lytle TX
2017 Leader

Spiny Dogfish

08/17/17 5:38pm
Size: 13" / 2.6lbs
Bait/Lure: Squid
Method: Surf Fishing

3
Like It

Timmy
Sandy Spring MD
2017 Leader

Spoonbill

02/19/17 8:12am
Size: 30" / 10lbs
Bait/Lure: Arrow
Method: Bow Fishing

5
Like It

13%

Clayton Anders
2017 Leader

Striped Bass

03/26/17 4:20pm
Size: 53" / 50lbs
Bait/Lure: Eel

4
Like It

3%

Mike Moss
Laytonsville MD
2017 Leader

Sunfish

08/02/17 6:23pm
Size: 6"
Bait/Lure: Spinner with minnow

4
Like It

3%

Mike Moss
Laytonsville MD
2017 Leader

Tarpon

10/17/17 2:45pm
Size: 42" / 23lbs
Bait/Lure: Shinners
Method: Drifting

22
Like It

5%

Mike Lord
Frankford DE
2017 Leader

Tautog

11/29/17 3:56pm
Size: 27" / 14.5lbs
Tackle Shop: Lewes Harbour Marina

25
Like It

5%

Dansfishingagain
Bethany Beach DE
2017 Leader

Thresher Shark

07/06/17 8:15pm
Size: 88" / 417lbs
Bait/Lure: Skippy
Method: Boat Fishing

5
Like It

4%

Hook'em&Cook'em Outfitters
South Bethany DE
2017 Leader

Toadfish

07/17/17 11:07pm
Size: 5"
Bait/Lure: Cut Bait
Method: Shore Fishing

5
Like It

3%

Don
Bethany Beach DE
2017 Leader

Triggerfish

08/01/17 7:36am
Size: 17"
Bait/Lure: Sandflea
Method: Shore Fishing

4
Like It

swankdiddy09@yahoo.com
Baltimore MD
2017 Leader

Wahoo

09/05/17 4:48pm
Size: 62lbs
Bait/Lure: Plugs

16
Like It

5%

Mike Lord
Frankford DE
2017 Leader

Walleye

11/25/17 1:00pm
Size: 26" / 7lbs
Bait/Lure: 3/8oz chartreuse/white spinner bait w/double willow painted blades
Method: Boat Fishing

6
Like It

15%

Robert
Millsboro DE
2017 Leader

White Marlin

06/27/17 10:37am
Size: 65lbs
Method: Trolling

8
Like It

Brooks Jenney
2017 Leader

White Perch

01/17/17 6:30am
Size: 13" / 1lb
Bait/Lure: Bucktail
Method: Shore Fishing

6
Like It

2%

Greg
South Bethany DE
2017 Leader

Yellowfin Tuna

09/04/17 7:58pm
Size: 54" / 68.3lbs
Bait/Lure: Bally hoo
Method: Trolling

8
Like It

4%

Hook'em&Cook'em Outfitters
South Bethany DE
Yearly Winners:
2019
2018
2017