2021 Leaders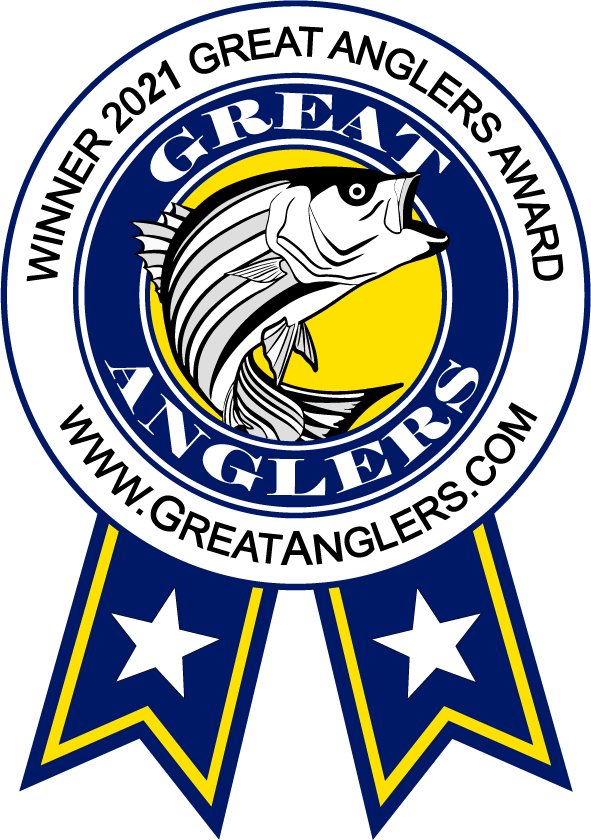 Congratulations to all the Winners!
These are the largest fish recorded so far for 2021.
If you have a fish that beats any of these and is not displayed, please edit your fish under the "My Fish" tab at the top" and make sure both the length and weight is entered correctly. At a minimum the length is required. Additionally the image and GPS position of your catch must be set to public to score and rank your fish.
Final Winners (of game fish only) will receive free Winners Tshirts and Stickers with the Winners Logo (right) at the end of the year!
Yearly Winners: 2020 2019 2018 2017
2021 Leader

Alligator Gar

09/06/21 1:10pm
Bait/Lure: Live Minnow
Method: Kayak
Shop/Boat/Guide: Williamsville Bait and Tackle

11
Like It

16%

Jordan Davila
Camden DE
2021 Leader

Atlantic Croaker

07/06/21 12:21am
Size: 11.5" / 1lb
Bait/Lure: Bloodworm
Method: Kayak
Tackle Shop: Hook 'em & Cook 'em (Indian River)

12
Like It

15%

Matthew Carney
2021 Leader

Atlantic Spadefish

08/12/21 6:41pm
Size: 22"
Bait/Lure: Spear gun
Method: Spear fishing

8
Like It

3%

Makoman
Laytonsville MD
2021 Leader

Black Crappie

05/12/21 6:07am
Size: 1lb
Bait/Lure: Nightcrawlers
Method: Bank Fishing
Shop/Boat/Guide: Brinkman's

12
Like It

9%

Mark Hudson
Philadelphia PA
2021 Leader

Black Drum

05/07/21 5:25pm
Size: 48" / 70lbs
Bait/Lure: Crab
Tackle Shop: Old Inlet Bait & Tackle

33
Like It

Rodney
2021 Leader

Blackfin Tuna

03/05/21 6:16pm
Bait/Lure: Chicken Thighs
Method: Big dog flipping tube
Charter/Head Boat: Judy V

14
Like It

17%

Dominic Costantino
Ocean View DE
2021 Leader

Blacktip Shark

08/27/21 4:12pm
Size: 70"
Bait/Lure: Tuna
Method: Surf Fishing
Tackle Shop: Old Inlet Bait & Tackle

13
Like It

6%

MAC
2021 Leader

Blue Catfish

06/16/21 3:56pm
Size: 15lbs
Bait/Lure: Nightcrawlers
Method: Bobber

16
Like It

Cole Guarneri
2021 Leader

Blue Claw Crab

07/27/21 8:56pm
Size: 9.375"

14
Like It

3%

trueangler77
Dallas PA
2021 Leader

Bluefish

06/30/21 4:31am
Size: 29.5"
Bait/Lure: Finger Mullet
Method: Surf Fishing
Tackle Shop: Old Inlet Bait & Tackle

21
Like It

Jason Stallings
Edgewater MD
2021 Leader

Bluegill

09/11/21 10:13am
Size: 9"
Bait/Lure: Sweet Pea
Method: Bank Fishing

8
Like It

9%

Mark Hudson
Philadelphia PA
2021 Leader

Bluntnose Ray

07/08/21 6:45am
Size: 80lbs
Bait/Lure: Fishbites
Method: Surf Fishing
Tackle Shop: Old Inlet Bait & Tackle

7
Like It

Brian Gilman
2021 Leader

Bonnethead Shark

08/01/21 2:13pm
Size: 40"

8
Like It

Frank
2021 Leader

Brook Trout

08/21/21 1:37pm
Size: 8"
Bait/Lure: Fly
Method: Fly fishing

6
Like It

Cole Guarneri
2021 Leader

Brown Trout

04/13/21 5:56pm
Size: 17" / 2lbs
Bait/Lure: Spinner
Tackle Shop: Old Inlet Bait & Tackle

11
Like It

1%

Old Inlet
Rehoboth Beach DE
2021 Leader

Butterfly Ray

06/20/21 6:42am
Size: 66"
Bait/Lure: Bunker
Method: Surf Fishing
Guide Service: Fishing with Greg

11
Like It

3%

Makoman
Laytonsville MD
2021 Leader

Carp

05/16/21 5:43am
Size: 11lbs
Bait/Lure: Nightcrawlers
Method: Dock
Shop/Boat/Guide: Brinkman's

11
Like It

9%

Mark Hudson
Philadelphia PA
2021 Leader

Catfish

09/08/21 11:50pm
Size: 14"
Bait/Lure: Nightcrawlers
Method: Bank Fishing
Shop/Boat/Guide: The Satanic Jellyfish

7
Like It

9%

Mark Hudson
Philadelphia PA
2021 Leader

Chain Pickerel

03/03/21 8:25am
Size: 16" / 1lb
Bait/Lure: Minnow
Method: Bobber and jig
Tackle Shop: Old Inlet Bait & Tackle

16
Like It

2%

Emmett Kelly
Ocean View DE
2021 Leader

Channel Catfish

07/31/21 11:08pm
Size: 20" / 3lbs
Bait/Lure: Nightcrawlers
Method: Bank Fishing
Shop/Boat/Guide: The Satanic Jellyfish

11
Like It

9%

Mark Hudson
Philadelphia PA
2021 Leader

Cobia

09/03/21 9:06am
Size: 50"
Bait/Lure: White Bucktail
Method: Casting
Tackle Shop: Fenwick Bait & Tackle

14
Like It

15%

Matt Shoup
Selbyville DE
2021 Leader

Cownose Ray

09/13/21 5:30pm
Size: 55.43" / 46.5lbs
Bait/Lure: Finger Mullet
Method: Surf Fishing
Tackle Shop: Old Inlet Bait & Tackle

11
Like It

6%

MAC
2021 Leader

Crappie

04/06/21 5:00pm
Size: 15.5" / 1.62lbs
Bait/Lure: Ham Sandwich
Method: Boat Fishing
Tackle Shop: Jim's Bait & Tackle

9
Like It

Jeffrey Evans
2021 Leader

Creek Chub

01/16/21 11:17pm

8
Like It

4%

Jordan Marcus
Owings Mills MD
2021 Leader

Dogfish Shark

07/28/21 8:05am
Size: 49" / 25lbs
Bait/Lure: Crab
Method: Surf Fishing
Tackle Shop: Old Inlet Bait & Tackle

15
Like It

6%

MAC
2021 Leader

Dusky Shark

08/27/21 6:00pm
Size: 57"
Bait/Lure: Mackerel
Method: Surf Fishing
Tackle Shop: Old Inlet Bait & Tackle

7
Like It

6%

MAC
2021 Leader

Flathead Catfish

06/03/21 1:58pm
Size: 14.4lbs
Bait/Lure: White Perch. Not A Hater Get Em
Method: Bank Fishing

9
Like It

Jerome Gass
2021 Leader

Flounder

07/14/21 12:51pm
Size: 26.7" / 7.79lbs
Tackle Shop: Lewes Harbour Marina

14
Like It

2%

Dansfishingagain
Bethany Beach DE
2021 Leader

Gafftopsail Catfish

07/16/21 8:35am
Bait/Lure: Mullet
Method: Boat Fishing

12
Like It

Tom Chaump
2021 Leader

Golden Tilefish

06/04/21 7:31pm
Size: 38lbs
Bait/Lure: Squid
Method: Charter
Tackle Shop: Lewes Harbour Marina

10
Like It

3%

Lewes Harbour Marina
Lewes DE
2021 Leader

Golden Trout

03/02/21 8:42am
Size: 14"

10
Like It

4%

Jordan Marcus
Owings Mills MD
2021 Leader

Groupers & Snappers

04/19/21 12:14pm
Size: 31" / 24lbs
Bait/Lure: Cut Mullet, Squid & Shrimp
Tackle Shop: Old Inlet Bait & Tackle

10
Like It

1%

Old Inlet
Rehoboth Beach DE
2021 Leader

Guitar Fish

08/21/21 7:12am
Size: 41" / 25lbs
Bait/Lure: Sand Fleas
Method: Surf Fishing

4
Like It

Robert Williams
Arlington VA
2021 Leader

Herring

05/08/21 9:29am
Bait/Lure: Bloodworm
Method: Shore Fishing
Tackle Shop: Old Inlet Bait & Tackle

8
Like It

Michael Lewis
2021 Leader

Kingfish

07/22/21 9:19am
Size: 14.7" / 0.75lbs
Bait/Lure: Sand Flea
Method: Surfcasting
Shop/Boat/Guide: Self

4
Like It

3%

The Fish Whisperer
Laurel MD
2021 Leader

Lake Trout

09/03/21 3:14pm
Size: 24" / 11lbs
Bait/Lure: Other
Method: Charter
Shop/Boat/Guide: Cloud Nine Charters

3
Like It

William I. Nash III
2021 Leader

Largemouth Bass

01/06/21 5:09pm
Size: 7.1lbs

25
Like It

4%

Jordan Marcus
Owings Mills MD
2021 Leader

Largemouth Bass

05/15/21 5:34pm
Size: 21" / 4.8lbs
Bait/Lure: Bluegill
Method: Bottom Fishing
Tackle Shop: Old Inlet Bait & Tackle

7
Like It

2%

Emmett Kelly
Ocean View DE
2021 Leader

Lizard Fish

08/21/21 4:44pm
Size: 9"
Method: Boat Fishing

13
Like It

17%

Dustin Wolf
Reading PA
2021 Leader

Mahi-mahi

08/26/21 2:22pm
Size: 42"
Bait/Lure: Cut Mullet, Squid & Shrimp
Method: Boat Fishing
Charter/Head Boat: Capt. Ike II

20
Like It

3%

Makoman
Laytonsville MD
2021 Leader

Mako Shark

05/22/21 8:56am
Size: 70"
Bait/Lure: Bunker
Method: Boat Fishing
Charter/Head Boat: Capt. Ike II

35
Like It

3%

Greg
South Bethany DE
2021 Leader

Mangrove Snapper

08/01/21 2:14pm
Size: 12"

14
Like It

Frank
2021 Leader

Muskie

08/19/21 7:07am
Size: 42"
Bait/Lure: White Spinner Bait Z-man Paddle Tail Trailer
Method: Boat Fishing

15
Like It

3%

Makoman
Laytonsville MD
2021 Leader

Needlefish

09/16/21 5:56pm
Size: 7" / 0.02lbs
Bait/Lure: Gulp
Method: Rock fishing in inlet
Tackle Shop: Old Inlet Bait & Tackle

7
Like It

Thomas Watras
Wilmington DE
2021 Leader

Northern Pike

09/08/21 7:34am
Size: 38"
Bait/Lure: Mepps Spinner

12
Like It

16%

Craig Korsgard
2021 Leader

Northern Stargazer

09/09/21 10:15am
Size: 15"
Bait/Lure: Mullet Chunk
Method: Boat Fishing
Shop/Boat/Guide: The Satanic Jellyfish

9
Like It

9%

Mark Hudson
Philadelphia PA
2021 Leader

Oyster Toadfish

07/01/21 10:10am
Size: 10" / 0.5lbs
Bait/Lure: Shrimp
Method: Bank Fishing
Tackle Shop: Old Inlet Bait & Tackle

12
Like It

3%

The Fish Whisperer
Laurel MD
2021 Leader

Peacock Bass

02/14/21 3:48pm
Bait/Lure: Shinners

7
Like It

15%

Matt Shoup
Selbyville DE
2021 Leader

Perch

06/10/21 11:03am
Size: 9.5"

12
Like It

19%

Holly Ulrich
Frankford DE
2021 Leader

Pompano

08/15/21 1:00pm
Size: 18"
Bait/Lure: Artificial Worm
Shop/Boat/Guide: Surf @ bethany beach

14
Like It

Richard Burke
2021 Leader

Pufferfish

04/18/21 10:30am
Size: 14"
Bait/Lure: Fishbites
Method: Surf Fishing
Tackle Shop: Old Inlet Bait & Tackle

11
Like It

13%

Jerry
New Castle DE
2021 Leader

Pumpkinseed

04/30/21 5:39pm
Size: 5"
Bait/Lure: Artificial Worm
Method: Bobber

12
Like It

thatguy
2021 Leader

Rainbow Trout

04/24/21 5:45am
Size: 9.8lbs

15
Like It

Ryan Hench
2021 Leader

Red Breast Sunfish

08/04/21 7:53am
Size: 8"
Bait/Lure: Nightcrawlers
Method: Bridge
Shop/Boat/Guide: The Satanic Jellyfish

8
Like It

9%

Mark Hudson
Philadelphia PA
2021 Leader

Red Drum

05/26/21 7:10pm
Size: 45"
Bait/Lure: Crab
Method: Bank Fishing
Shop/Boat/Guide: Self

17
Like It

Jacob Lucas
2021 Leader

Red Grouper

04/01/21 11:06pm
Bait/Lure: Mullet Chunk
Tackle Shop: Hook'em & Cook'em Outfitters (South Bethany)

14
Like It

10%

Elsa LaVecchia
Frankford DE
2021 Leader

Remora

06/24/21 9:41am
Size: 27"
Bait/Lure: Squid
Method: Pier

23
Like It

9%

Mark Hudson
Philadelphia PA
2021 Leader

Ribbon Fish

08/12/21 3:15pm
Size: 49"
Bait/Lure: Salted Squid
Method: Boat Fishing
Tackle Shop: Hook 'em & Cook 'em (Indian River)

20
Like It

Tom Vogel
2021 Leader

Roughtail Stingray

07/27/21 6:16pm
Size: 54" / 85lbs
Bait/Lure: Cut Bait
Method: Surf Fishing
Tackle Shop: Old Inlet Bait & Tackle

15
Like It

6%

MAC
2021 Leader

Saltwater Catfish

07/09/21 10:23am
Size: 18"
Bait/Lure: Shrimp
Method: Dock
Shop/Boat/Guide: Satanic Jellyfish

7
Like It

9%

Mark Hudson
Philadelphia PA
2021 Leader

Sand Seatrout

09/10/21 10:55pm
Size: 9.48" / 0.633lbs
Bait/Lure: Shrimp
Method: Surf Fishing
Tackle Shop: Old Inlet Bait & Tackle

11
Like It

6%

MAC
2021 Leader

Sand Tiger

07/05/21 8:48pm
Size: 196" / 369lbs
Bait/Lure: Bunker
Method: Surf Fishing
Tackle Shop: Fenwick Bait & Tackle

5
Like It

Hunter Brown
2021 Leader

Sandbar Shark

07/27/21 5:29pm
Size: 72" / 150lbs
Bait/Lure: Tuna
Method: Surf Fishing
Tackle Shop: Old Inlet Bait & Tackle

18
Like It

6%

MAC
2021 Leader

Sea Bass

05/21/21 9:39am
Size: 18" / 2.5lbs
Bait/Lure: Squid
Method: Bottom Fishing
Tackle Shop: Hook'em & Cook'em Outfitters (South Bethany)

13
Like It

1%

Chic
Ocean View DE
2021 Leader

Sea Robin

09/04/21 2:00pm
Size: 12"
Bait/Lure: Cut Bait
Method: Bottom Fishing
Tackle Shop: Buck's Place

10
Like It

Paige Faulk
2021 Leader

Shad

04/25/21 6:47am
Size: 24" / 2lbs
Bait/Lure: Spec Rig For Blue
Method: Shore Fishing

10
Like It

10%

Vincent
2021 Leader

Shark

09/16/21 3:35pm
Bait/Lure: Bunker
Method: Surf Fishing
Shop/Boat/Guide: Old inlet bait and tackle

8
Like It

12%

Robbie Spry
2021 Leader

Sheepshead

07/05/21 7:54pm
Size: 13.96lbs
Bait/Lure: Sand Fleas
Method: Boat Fishing
Tackle Shop: Lewes Harbour Marina

14
Like It

3%

Lewes Harbour Marina
Lewes DE
2021 Leader

Snakehead

07/12/21 5:11pm
Size: 32" / 9.5lbs
Bait/Lure: Jig
Method: Casting

10
Like It

8%

Paul Garcia
Smyrna DE
2021 Leader

Snook

03/28/21 4:45pm
Size: 16"
Bait/Lure: Shrimp
Method: Boat Fishing
Tackle Shop: Hook'em & Cook'em Outfitters (South Bethany)

15
Like It

10%

Elsa LaVecchia
Frankford DE
2021 Leader

Spanish Mackerel

08/13/21 10:22am
Size: 21"
Bait/Lure: Spoon
Method: Trolling
Shop/Boat/Guide: Old inlet bait and tackle

11
Like It

12%

Robbie Spry
2021 Leader

Speckled Trout

05/26/21 2:43pm
Size: 17"
Bait/Lure: Paul Brown Lures
Method: Boat Fishing
Shop/Boat/Guide: Seahawk Sport, Pocomoke MD

19
Like It

Jacob Lucas
2021 Leader

Spinner Shark

08/27/21 6:15am
Size: 58" / 80lbs
Bait/Lure: Mackerel
Method: Surf Fishing
Tackle Shop: Old Inlet Bait & Tackle

9
Like It

6%

MAC
2021 Leader

Spiny Dogfish

08/20/21 1:02am
Size: 51" / 17lbs
Bait/Lure: Bunker
Method: Surf Fishing
Tackle Shop: Old Inlet Bait & Tackle

12
Like It

6%

MAC
2021 Leader

Spot

08/31/21 10:15am
Size: 10" / 2lbs
Bait/Lure: Fishbites
Method: Surf Fishing
Shop/Boat/Guide: Old inlet bait and tackle

5
Like It

Jeff Cirelli
Mahopac NY
2021 Leader

Spotted Seatrout

08/28/21 10:07am
Size: 17"
Bait/Lure: Lure
Method: Dock

14
Like It

Patrick Griffith
Dover DE
2021 Leader

Stingray

08/06/21 10:06am
Size: 40lbs
Bait/Lure: Arrow
Method: Bow Fishing
Tackle Shop: Hook'em & Cook'em Outfitters (South Bethany)

14
Like It

9%

Clayton Anders
2021 Leader

Striped Bass

05/29/21 10:36am
Size: 46"
Method: Surf Fishing
Tackle Shop: Captain Steves Bait & Tackle

18
Like It

5%

Captain Steve's Bait & Tackle
Chincoteague Island VA
2021 Leader

Tautog

04/19/21 11:04pm
Size: 9.75lbs
Bait/Lure: Jig

15
Like It

2%

Dansfishingagain
Bethany Beach DE
2021 Leader

Triggerfish

07/06/21 9:47am
Size: 15" / 3.5lbs
Bait/Lure: Sand Fleas

10
Like It

Go Fish
Newark DE
2021 Leader

Tuna

06/26/21 5:04pm
Size: 15lbs
Bait/Lure: Chatterbait
Method: Trolling

15
Like It

13%

Wyatt Paden
Ocean View DE
2021 Leader

Wahoo

07/20/21 4:53pm
Size: 56lbs
Bait/Lure: Lure
Method: Trolling
Tackle Shop: Lewes Harbour Marina

12
Like It

3%

Lewes Harbour Marina
Lewes DE
2021 Leader

Walleye

09/07/21 12:37pm

11
Like It

16%

Craig Korsgard
2021 Leader

Weakfish

07/08/21 7:21am
Size: 14" / 0.25lbs
Bait/Lure: Bloodworm
Method: Pier Fishing
Tackle Shop: Old Inlet Bait & Tackle

10
Like It

3%

The Fish Whisperer
Laurel MD
2021 Leader

White Bass

08/04/21 7:26am
Size: 8"
Bait/Lure: Nightcrawlers
Method: Bridge
Shop/Boat/Guide: The Satanic Jellyfish

8
Like It

9%

Mark Hudson
Philadelphia PA
2021 Leader

White Marlin

05/11/21 9:30am
Size: 85lbs
Bait/Lure: Ballyhoo
Method: Boat Fishing

20
Like It

13%

Shawn
Bishopville MD
2021 Leader

White Perch

08/19/21 8:18pm
Size: 13.5" / 1lb
Bait/Lure: Cajun Cricket Curly Tail Grub
Method: Urban Fishing
Shop/Boat/Guide: Self

8
Like It

3%

The Fish Whisperer
Laurel MD
2021 Leader

Yellow Bullhead Catfish

04/30/21 10:57pm
Size: 10"
Bait/Lure: Artificial Worm
Method: Bobber

13
Like It

thatguy
2021 Leader

Yellow Jack

07/19/21 7:56am
Bait/Lure: Shrimp
Method: Jetty

10
Like It

Tom Chaump
2021 Leader

Yellow Perch

06/19/21 2:30pm
Size: 12"
Bait/Lure: Senko
Method: Bank Fishing
Shop/Boat/Guide: Team Pfaff

6
Like It

6%

Jason Pfaff
Bishopville MD
2021 Leader

Yellowfin Tuna

07/28/21 8:00am
Size: 48" / 100lbs
Bait/Lure: Live Minnow
Shop/Boat/Guide: Angler in Ocean City MD

8
Like It

Henry
Yearly Winners:
2020
2019
2018
2017